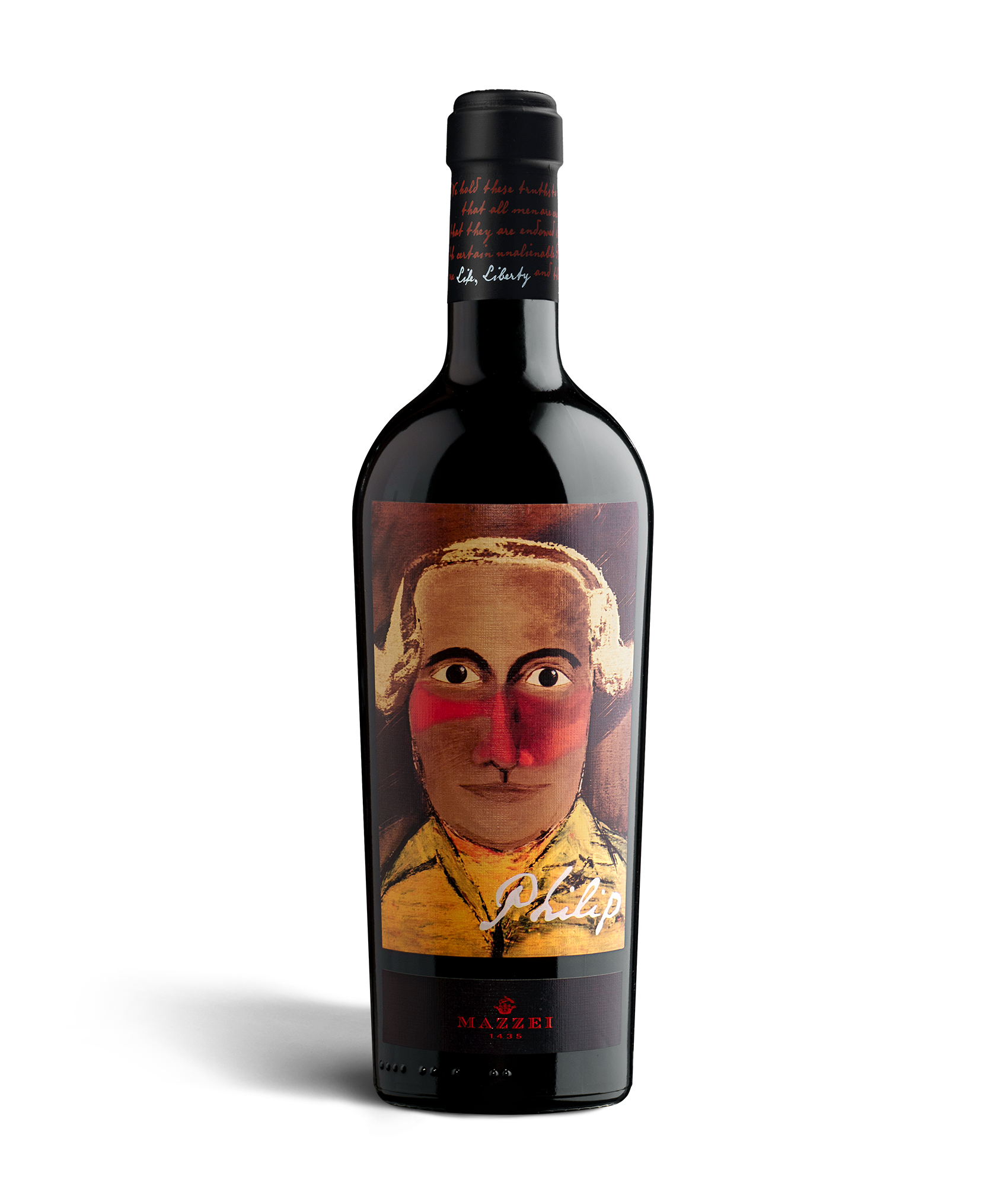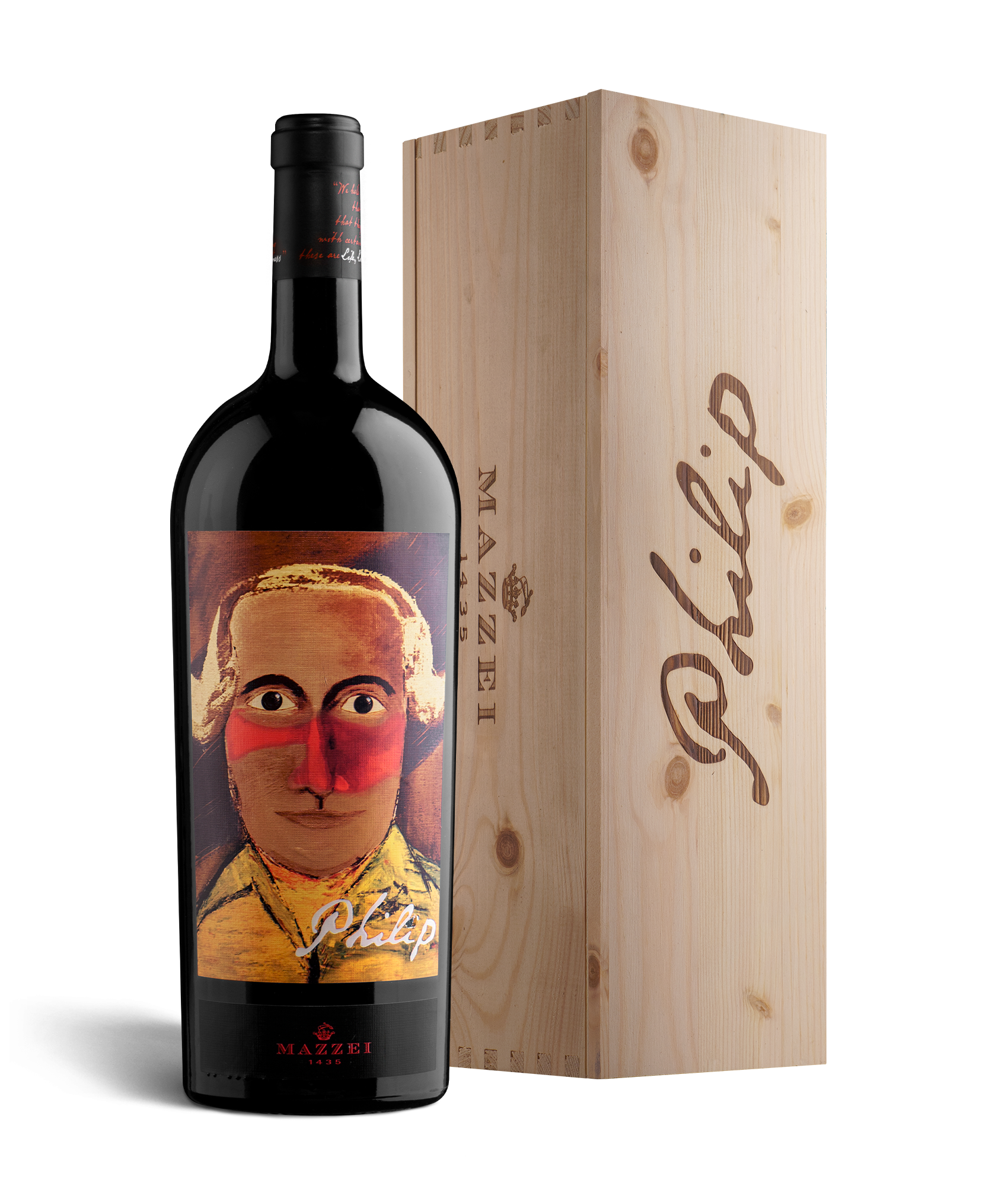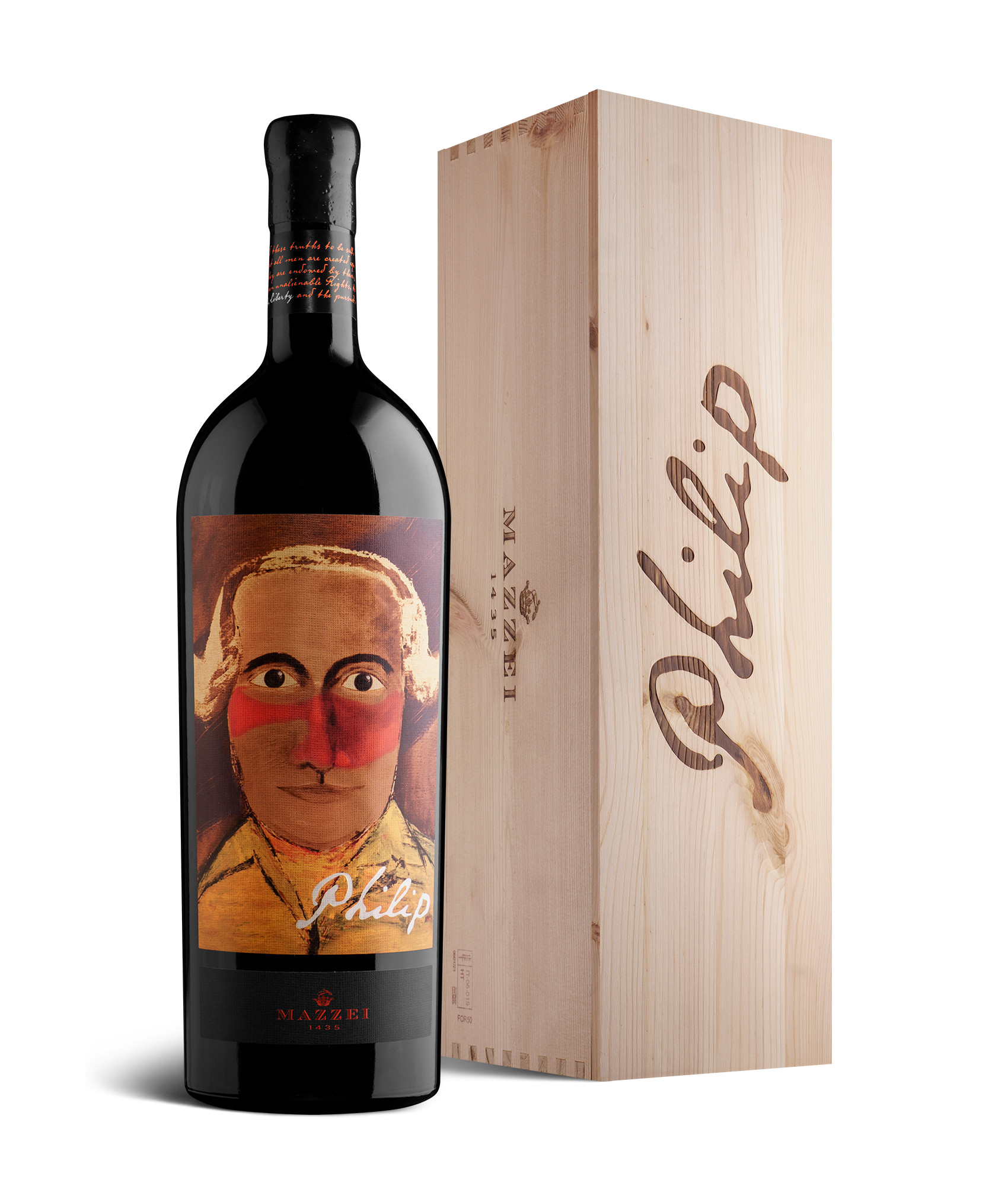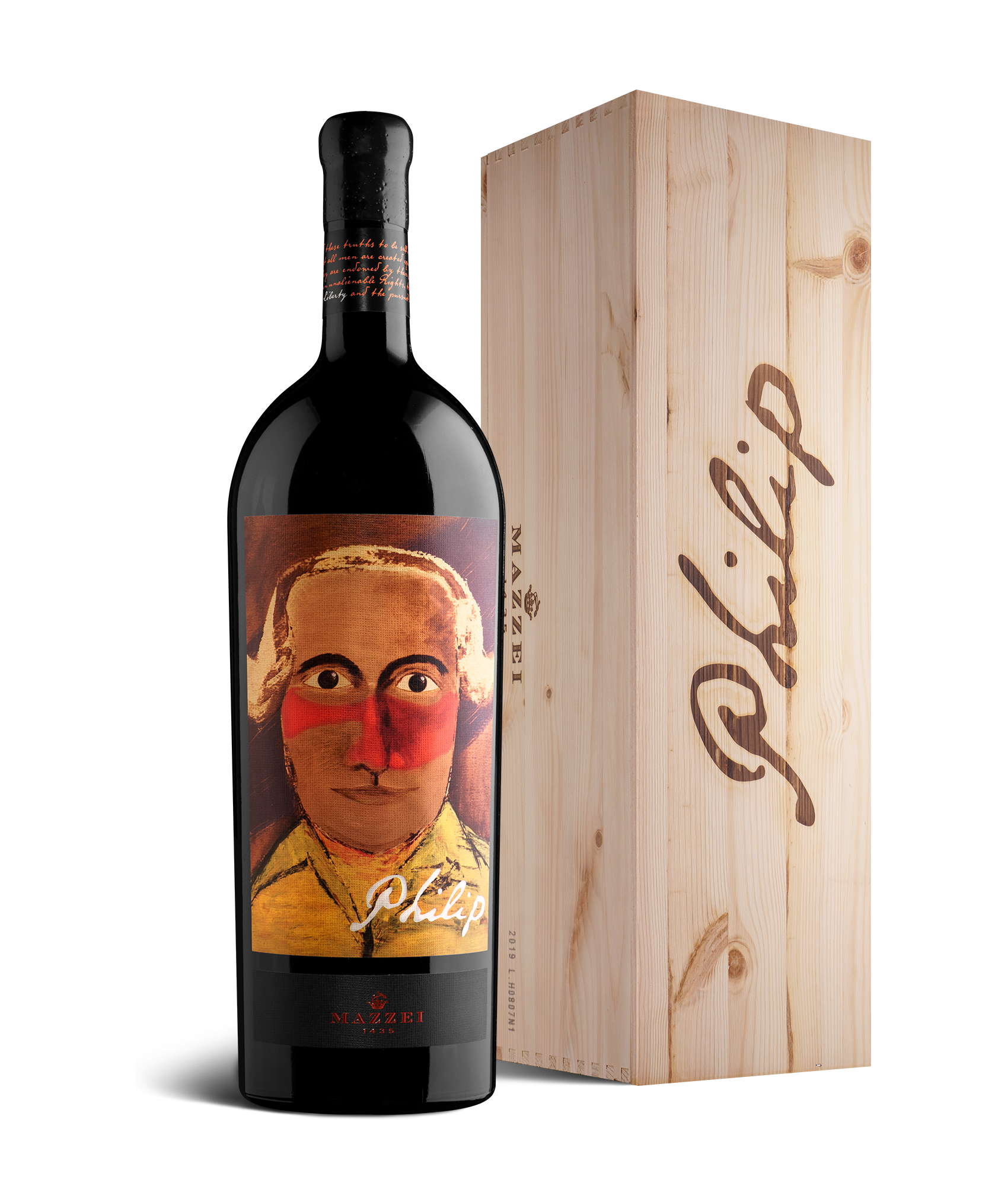 Made in Tuscany dedicated to Philip Mazzei
This wine is dedicated to Philip Mazzei (1730-1816), an illustrious ancestor of the family, political thinker, American Patriot and pioneer, together with Thomas Jefferson, of the viticulture in Virginia. Made with a blend of Cabernet Sauvignon selected from our estates, Philip is the quintessence of Tuscany. "The great doctrine 'All men are created equal', incorporated into the Declaration of Independence by Thomas Jefferson, was paraphrased from the writings of Philip Mazzei, an Italian-born patriot, and close friend of Jefferson's." (JFK, "A Nation of Immigrants")
2021
2020
2019
2018
2017
2016
2015
2014
2013
2012
2011
2010
2009
2008
Winery

Castello di Fonterutoli


Winery location

Chianti Classico, Toscana


Grape varieties

100% Cabernet Sauvignon


Alcohol

13.90%

Total acidity

5.70%

Vineyards location

50 - 310 mt (165 - 1,020 ft) a.s.l.; S-SW exp.


Soil

Fonterutoli: mainly Limestone - Belguardo: mainly Sandstone


Vineyards age

15 - 25 years

Training system

Spur cordon-training

Nr. of vines per hectar

6.600 plants

Harvest

Hand picked from September 13th (Belguardo), September 28th (Fonterutoli)

Fermentation temperature

25 - 27° C


Period of maceration

13 days (Fonterutoli), 15 days (Belguardo)


Ageing

18 months in french and american oak barrels (225 lt / 30% new)


Bottling

June 2023


Available on the market

September 2023


Production

40.000 bottles

Formats

750 ml - 1,5 lt - 3 lt - 6 lt

Cases

6 bottles cardboard box (750 ml), single wooden case (1,5 lt - 3 lt - 6 lt)

First vintage

2008

Ageing potential

Over 20 years

Key description

Full, ripe and intriguing body, long taste with pleasant and fresh aftertaste

Food pairing

Game stews, aged and blue cheese, spicy food
.Pdf
Download Philip_2021_ITA
Download Philip_2021_ENG
The year 2021 was distinguished by a cold winter with little precipitation. An (initially) cool spring with adequate rainfall was followed by a long, hot summer but with good diurnal temperature variations that allowed excellent completion of the grape ripening process. Worthy of note, an initial delayed development of the vines that resolved itself as the season progressed.
The harvest was extremely rewarding, in terms of performance and excellent quality and health of the grapes going to cellar; these grapes will yield rich, well-structured wines thanks to their thick, but well-balanced, fresh skins.
There was a slight decrease in quantity, due to the insufficient rain during the winter which hindered budding in the early-maturing areas.
Beginning of the harvest: September 9th, 2021
End of the harvest: October 13th, 2021
Rainfalls (sum of rainfall between April 1st and September 30th): 503,1 mm
Temperature Index (sum of average daily temperatures from April 1st to September 30th): 4.511,3 °C
Evaluation: Very good
Winery

Castello di Fonterutoli


Winery location

Chianti Classico, Toscana


Grape varieties

100% Cabernet Sauvignon


Alcohol

14.00%

Total acidity

5.40%

Vineyards location

50 - 310 mt (165 - 1,020 ft) a.s.l.; S-SW exp.


Soil

Fonterutoli: mainly Limestone - Belguardo: mainly Sandstone


Vineyards age

15 - 25 years

Training system

Spur cordon-training

Nr. of vines per hectar

6.600 plants

Harvest

Hand picked from September 16th (Belguardo), September 25th (Fonterutoli)

Fermentation temperature

25 - 27° C


Period of maceration

13 days (Fonterutoli), 15 days (Belguardo)


Ageing

18 months in french and american oak barrels (225 lt / 30% new)


Bottling

June 2022


Available on the market

October 2022


Production

41.000 bottles

Formats

750 ml - 1,5 lt - 3 lt - 6 lt

Cases

6 bottles cardboard box (750 ml), single wooden case (1,5 lt - 3 lt - 6 lt)

First vintage

2008

Ageing potential

Over 20 years

Key description

Full, ripe and intriguing body, long taste with pleasant and fresh aftertaste

Food pairing

Game stews, aged and blue cheese, spicy food
.Pdf
Download Philip_2020_ITA
Download Philip_2020_ENG
The winter of 2020 was cold with moderate rainfall. After a cool spring with adequate, well-spaced showers, the wide diurnal temperature range over the long hot summer was sufficient to ensure a smooth and problem-free ripening of the grapes. The process was also helped by rains in June and September which reduced water stress, and by an absence of pests or disease.
A season characterised by average temperatures and well-spaced rainfall gave rise to a highly satisfying harvest of top-quality grapes. With their thick skins and well-ripened phenols, these grapes will produce wines which combine fullness and structure with balance and freshness.
The one less positive note was a lower yield due to a few cold nights in early April which affected bud burst in areas where this took place early.
Beginning of the harvest: September 7th
End of the harvest: October 7th
Rainfalls (sum of rainfall between April 1st and September 30th): 468 mm
Temperature Index (sum of average daily temperatures from April 1st to September 30th): 3608 °C
Evaluation: Very good