Poggio Badiola
Toscana IGT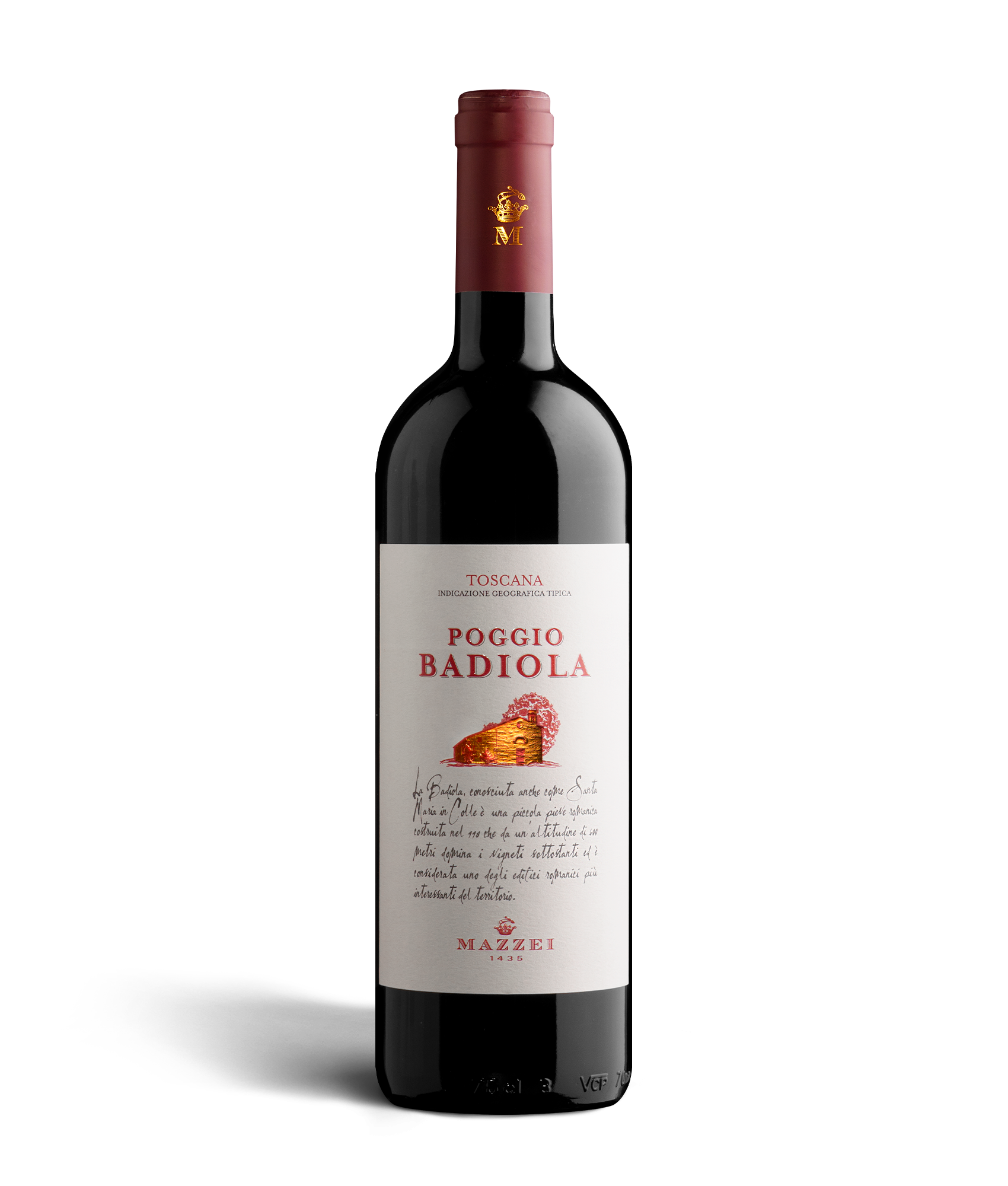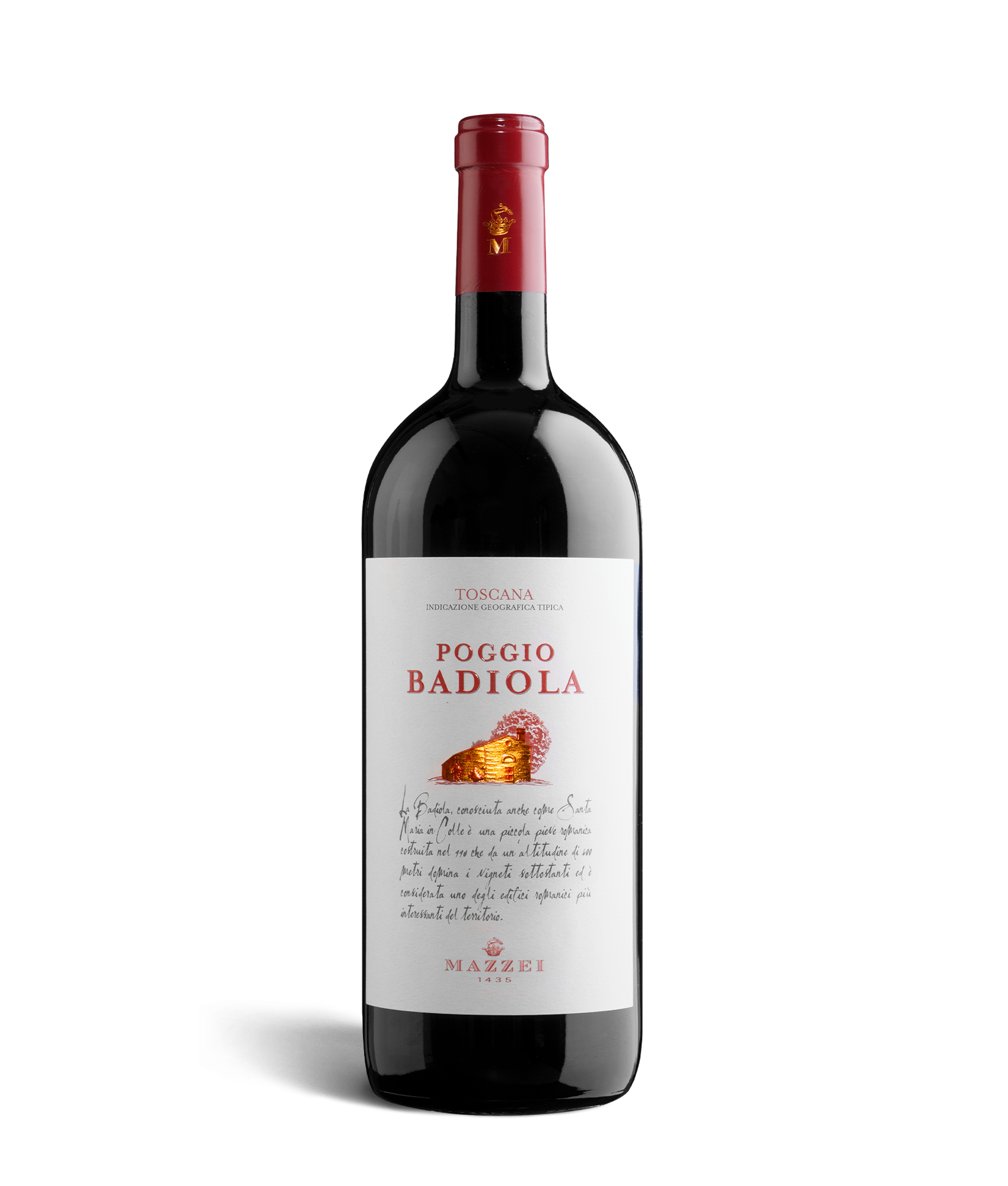 Poggio Badiola
Toscana IGT
An "every day" Supertuscan
It comes from vineyards located at a great altitude in the heart of the Chianti Classico region, around a Romanesque church dating back to the 10th century. It uniquely combines the freshness and elegance of Sangiovese with the soft structure of Merlot.
2021
2020
2019
2018
2017
2016
2015
2014
2013
2012
2011
2010
2009
2008
2007
2006
2005
2004
2003
James Suckling

90 Pts

Falstaff

94 Pts
Winery

Castello di Fonterutoli


Winery location

Chianti Classico, Toscana


Grape varieties

70% Sangiovese, 30% Merlot


Alcohol

13.00%

Total acidity

5.60%

Vineyards location

Badiola vineyard (Radda in Chianti), alt.: 470 - 570 m. (1,540 - 1,870 ft) a.s.l.


Soil

Rocky - coming from decomposed limestone and sandstone


Training system

Spur cordon-training and Guyot

Nr. of vines per hectar

5.500 - 7.200 plants

Harvest

Hand picked from September 21st


Fermentation temperature

26 - 28°C

Period of maceration

12 - 15 days

Ageing

In american small oak barrels (225 lt) for 10 months


Bottling

December 2021


Available on the market

February 2022


Formats

750 ml - 1,5 lt

First vintage

1994

Key description

Elegant, fresh red berry flavors, velvety, aromatic and supple

Food pairing

Cold cuts, pasta with meat/game sauce, pizza, big grilled fish, pot roast






.Pdf
Download Poggio_Badiola_2020_ITA
Download Poggio_Badiola_2020_ENG
James Suckling

92 Pts

Winescritic.com

92 Pts
The winter of 2020 was cold with moderate rainfall. After a cool spring with adequate, well-spaced showers, the wide diurnal temperature range over the long hot summer was sufficient to ensure a smooth and problem-free ripening of the grapes. The process was also helped by rains in June and September which reduced water stress, and by an absence of pests or disease.
A season characterised by average temperatures and well-spaced rainfall gave rise to a highly satisfying harvest of top-quality grapes. With their thick skins and well-ripened phenols, these grapes will produce wines which combine fullness and structure with balance and freshness.
The one less positive note was a lower yield due to a few cold nights in early April which affected bud burst in areas where this took place early.
Beginning of the harvest: September 7th
End of the harvest: October 7th
Rainfalls (sum of rainfall between April 1st and September 30th): 468 mm
Temperature Index (sum of average daily temperatures from April 1st to September 30th): 3608 °C
Evaluation: Very good
Winery

Castello di Fonterutoli


Winery location

Chianti Classico, Toscana


Grape varieties

65% Sangiovese, 30% Merlot, 5% Petit Verdot


Alcohol

12.74%

Total acidity

5.92%

Vineyards location

Badiola vineyard (Radda in Chianti), alt.: 470 - 570 m. (1,540 - 1,870 ft) a.s.l.


Soil

Rocky - coming from decomposed limestone and sandstone


Training system

Spur cordon-training and Guyot

Nr. of vines per hectar

5.500 - 7.200 plants

Harvest

Hand picked from September 20th (Sangiovese), from September 4th (complementary varietals)


Fermentation temperature

26 - 28°C

Period of maceration

12 - 15 days

Ageing

In american small oak barrels (225 lt) for 10 months


Bottling

November 2019


Available on the market

February 2020


Production

250.000 bottles

Formats

750 ml - 1,5 lt

First vintage

1994

Key description

Elegant, fresh red berry flavors, velvety, aromatic and supple


Food pairing

Cold cuts, pasta with meat/game sauce, pizza, big grilled fish, pot roast







.Pdf